Free download. Book file PDF easily for everyone and every device. You can download and read online The Practical Cyclist: Bicycling for Real People file PDF Book only if you are registered here. And also you can download or read online all Book PDF file that related with The Practical Cyclist: Bicycling for Real People book. Happy reading The Practical Cyclist: Bicycling for Real People Bookeveryone. Download file Free Book PDF The Practical Cyclist: Bicycling for Real People at Complete PDF Library. This Book have some digital formats such us :paperbook, ebook, kindle, epub, fb2 and another formats. Here is The CompletePDF Book Library. It's free to register here to get Book file PDF The Practical Cyclist: Bicycling for Real People Pocket Guide.
Chip Haynes has been involved with bicycling for decades. He crossed America with BikeCentennial in , and wrote about bicycling for The Wire Donkey for.
Table of contents
I have been involved with HUB Cycling for 15 years both as a volunteer advocate helping to create wonderful opportunities to bike in Vancouver and working on many of the HUB programs for that same purpose. Currently on staff as the Everyone Rides Grade Manager, this position is helping to realize a dream that started up a decade ago- we want to see all children in BC getting great cycling education in school! I'm very excited to be working on this pilot and look forward to the joy of seeing more kids out confidently riding to school, to play and for the sheer joy of it.
Learn How to Ride a Bicycle in 5 Minutes
I want to share my love of riding bikes with everyone! There was a time when I commuted by car to my corporate place of work… Often sitting in rush hour traffic, going through the complications of the day to come, surfacing memories of the fun and simplicity of bike riding kept my sanity! Since then, I have become a full time car free cyclist, with an awesome hobby turned bikey career! See ya on the ride ;. Cycling has since become one of my favourite ways for exploring cities, islands, and nooks and crannies of the world. Saturday mornings were the best time when I was growing up.
Sign up to our newsletter for the latest bike reviews, news and tech
I would jump on my banana seat bike, tassels streaming from the handlebars, and race around. The freedom of taking off on my own, flying down the hills, meeting up with friends, it was a pretty exciting time for an 8 year old! Biking to me is freedom. Teaching bike education feels like I am providing someone with a new tool for freedom and independence, to safely get to where they need to go or just find the fun flying down that hill knowing they can stop at the bottom! Riding through the forests of Britany my wife and I kept hearing a French horn playing in the distance.
Gradually it grew louder until finally we biked by a man playing his horn while his family looked on. Since learning to ride I have loved travelling and seeing the world immersed in it. Whether its commuting, biking to shops, or taking on another week-long journey riding a bike inspires me with new experiences. And by helping people feel more comfortable riding their bicycles I hope they can also see the world in a different way. Early one morning, I left the house before my parents were awake, pedalling off on my red tricycle, in my pyjamas. It only got better when I learned to ride a two-wheeler!
These days, what makes me feel strong is how much I can carry in my Dutch cargobike: furniture, bricks, lumber, but most often my two children and large loads of groceries. I love riding my bikes!!! I love supporting adults and children as they learn how to ride a bicycle for the first time, or perhaps get back on the saddle after many years away. I love supporting people to ride with more confidence, learn how to understand, maintain and repair their bikes. Love love love : what more can I say I am so grateful to have the opportunity to inspire and connect with others through bikes and riding.
My favourite memory of riding my bike would be with my siblings around the courtyard we used to live in. We would try to ride around the whole thing balancing on the curb, which was tricky, also riding down the hill around the corner of the house, over and over. I love teaching the youth because I think cycling should be an activity that is accessible and enjoyable for everyone, and this is something we are encouraging. It's great to see how enthusiastic, excited, and eager the youth are about participating!
From the beginning of Mathieu's search for freedom, biking has proven to be the answer. One of his favourite epiphanies was the realization that hopping on a bike makes everything seem to disappear, leaving only joy and playfulness. These moments always carry Mathieu past his destination. For him, teaching cycling and bike mechanics has become a way to empower and bring joy to kids and adults.
In the rain or in the snow, in traffic or with a flat, cyclists should always feel comfortable and free. I've been biking ever since my dad taught me, pushing me on my purple mustang, back in the 70s. That's not true. When I went to high school I was afraid my bike would get stolen so I walked to school. This lasted through three years of art school, busing from Richmond to Granville Island.
One day I decided to ride to school, and I surprised myself by not only surviving the trip, but also by trimming 15 minutes off my bus commute. The trip was free; I got exercise; and I arrived sharper. I've been hooked ever since. I've since ridden the streets of Paris; Harbin; Montreal through winter. I've taken up randonneuring, centuries, and fondos. I commute by bike, shop by bike and explore by bike. Now I get to teach on a bike! I've tried to describe to non-cyclists what it is about cycling that's so great, and then I sit down with another cyclist and we share that same look.
Growing up near the mountains, woods, and ocean here in Vancouver gave Alexandra more opportunity than she could have imagined.
What started as passion and playtime developed over the years, and it is what keeps her learning, active, and happy. Whether biking along the trails in nature or within a city, there is not a finer way to experience the quirks and quarks of life. She is so happy that she can share her love of biking with the greater community and join in the action to create a safer space for all. We are so lucky to live on the beautiful door to British Columbia's- let's make it better.
Cycling in Copenhagen
My first love of cycling was riding my tricycle in the park, but I was 14 then and my knees kept hitting me in the forehead. So I graduated to a Raleigh with Sturmey Archer 3 speed hub and I was hooked—long hair flowing in the breeze that was before helmets were invented , bell bottom jeans flapping, dodging the cobblestones and streetcar tracks of Toronto. We have learned that the bicycle can change the world.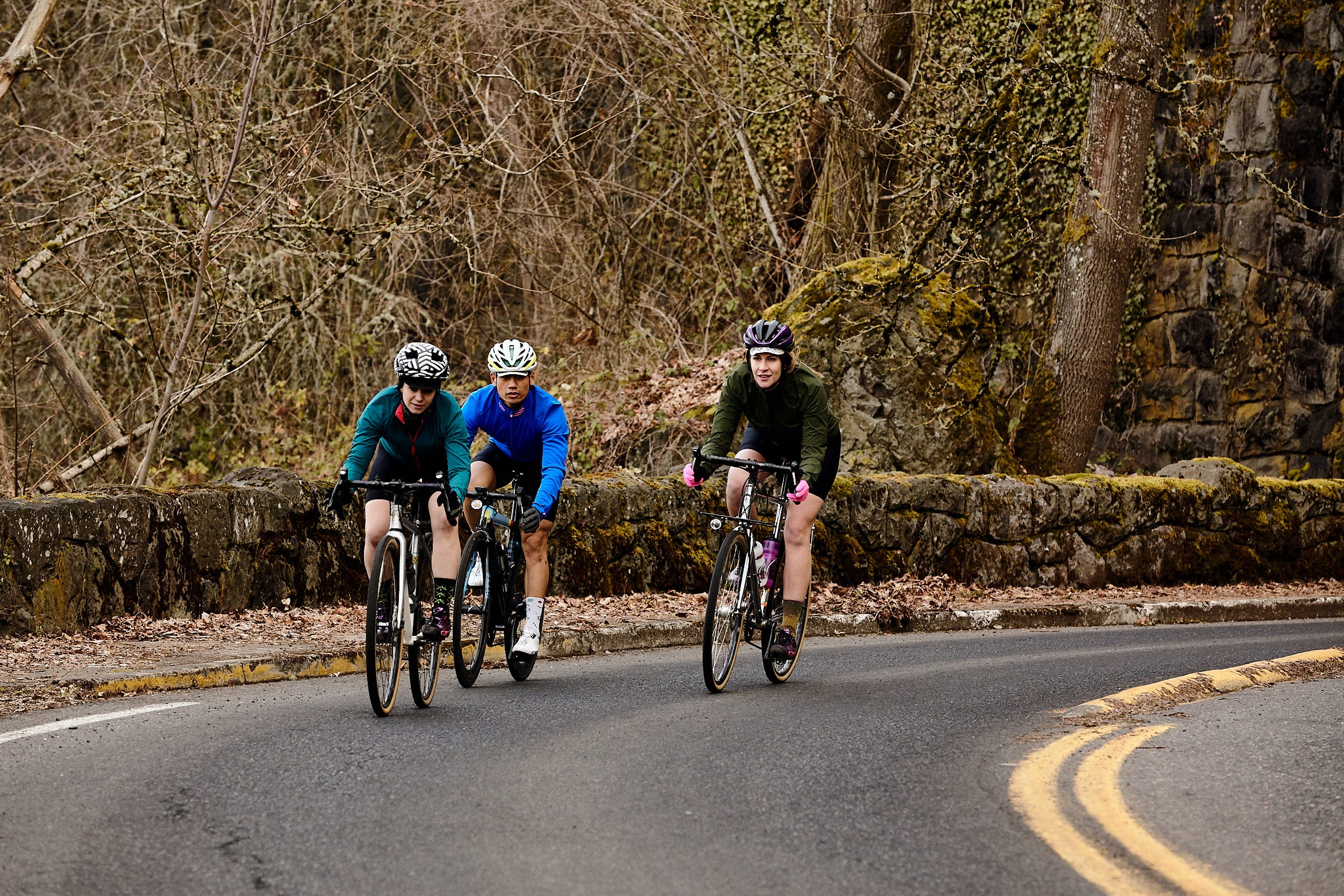 I want kids to feel safe and confident so their riding can be an instrument of change for whatever cause excites them: health, transportation, the environment, philanthropy For me that is combatting my greatest foe: cancer. My hope is that it inspires. I learned to ride a bike at age 5 using the "trial and error" method, circling around the garage with my cousin's cool red and black racer.
My skills have much improved since then, biking for equal parts transportation and joy. I love my commutes around the city, but am usually dreaming of the next chance I can get out on a longer tour! I gained confidence on my bike with a trip down the Northwest Coast, and several smaller trips around Vancouver Island. For me, one of the best parts of cycling is all the amazing people I get to meet, not to mention the incredible sights, healthy heart gains, and convenience of it all who wants to deal with parking in the city??
I love swapping stories with fellow cyclists and am always amazed at how much there is to learn along the way! I strive to share this love of biking in hopes to inspire others to realize their own strength and capabilities. I loved biking as a kid in the Kelowna—especially with my dad and sister to the candy store, and through the field and alleys with my little pals. When I moved to Victoria I discovered road bikes and a whole community and culture based on the wonder of cycling. Bike polo, bicycle dance troops, midnight mystery bike rides, long afternoon sun rides with friends—that community of people and time was truly special and formed a love of riding bikes for pleasure, fitness, freedom and commuting that will continue for the rest of my days.
I love working with kids and being inspired by the smallest things; I might secretly still be a kid, shh! Riding bikes is so much fun—just spinning those legs around frees your mind. Your neighbourhood ride can become a spy mission, or your thoughts could be a million miles away. Your choice. When I was a kid, I used to think I was really cool because I spent hours trying to keep my tire straight riding across wooden or concrete dividers that were elevated slightly off the ground.
I imagined I was on a knife edge on a mountain. Maybe I could be in the Olympics, with my great sense of balance! Now I have settled into the fact that I was probably just like every other kid. Growing up in the suburbs where things tend to be far apart, it was liberating to be able to get around by bike and not to mention far more exciting than taking the bus.
Whether its for getting around, going for a casual bike ride or bike touring I love sharing my love and excitement for cycling with others! Skip to main content. New Westminster. North Shore. Regional Advisory Committee. HUB Cycling HUB Cycling is a charitable not-for-profit organization that has spent over 20 years removing barriers to cycling in Metro Vancouver, while cultivating the health, environmental, and economic benefits that active transportation can bring.
Our Mission - To get more people cycling, more often. Board Members. Derik Wenman. President Derik was born and raised in the lower mainland and has lived and worked extensively throughout British Columbia. Jeff Leigh.
The 10 best cycling books | Books | The Guardian
Matthew Alexander. Treasurer Matt was born and raised in Vancouver and has recently returned from five years living in Toronto. Corrie Bownick. Secretary Corrie Bownick is a passionate cyclist and environmentalist. Jeff Rotin. Tai Silvey. Neil MacEachern. Shareen Chin. Matt Strand. Erin O'Melinn. Laura Jane. Director of Corporate Engagement and Events Currently on maternity leave Laura is a strong believer in the importance of building happy, healthy, and inclusive urban communities and feels that the bicycle is a key to achieving these societal outcomes.
Timothy Welsh. Director of Programs Growing up in a small BC interior town, Tim spent much of his youth on a bike exploring and learning about the world. Navdeep Chhina. Director of Communications When more people cycle, communities become happier, healthier and more sustainable. Alyshia Burak. Catherine Acuna. Tracy Wilkins. Kent MacWilliam. Giving Manager Kent grew in Vancouver and has been in love with two wheels and bike commuting since learning to ride a bike. Jennifer Rai. Tim Davidson. Rowena Farr. Kristen Elder. Project Manager Gavin is a professional planner and a nationally recognized leader in transportation policy, planning and facility design.
Evan Hammer. Rianna Fiorante. Maisie Harrison. Stuart Lew. Lisa Slakov. Everyone Rides Grade Manager I have been involved with HUB Cycling for 15 years both as a volunteer advocate helping to create wonderful opportunities to bike in Vancouver and working on many of the HUB programs for that same purpose. Ari Ng. See ya on the ride ; Bike Love Ari. Donna Chen. Heather Harvey. Ken Wuschke. Lisa Corriveau.
Louise Fenwick. Mandi Parkes. Mathieu Beaudoin. Darren Brereton.
Radiation Protection in Pediatric Radiology# (N C R P Report)!
HUB Cycling | HUB Cycling: Bike Events, Education, Action in Metro Vancouver.
Bone shakers and penny-farthings.
How to Start Cycling: 6 Tips That Will Help You as a Beginner?
Thinking for a Living: How to Get Better Performances And Results from Knowledge Workers?
The following ISBNs are associated with this title:. ISBN - On the Content tab, click to select the Enable JavaScript check box. Click OK to close the Options popup. Refresh your browser page to run scripts and reload content. Click the Internet Zone. If you do not have to customize your Internet security settings, click Default Level. Then go to step 5. Click OK to close the Internet Options popup.
Chrome On the Control button top right of browser , select Settings from dropdown. Under the header JavaScript select the following radio button: Allow all sites to run JavaScript recommended. Prices and offers may vary in store. The Practical Cyclist provides simple, basic information that takes the intimidation out of visiting a bike shop and includes: How to choose equipment Proper riding technique Safety tips Accessories Easy rules on where, when and how to ride As this book says, anyone can ride a bike and look good doing it.
About The Author. Chip Haynes has been a year-round commuter for a decade, and owns too many bicycles. He writes about bicycling for The Wire Donkey and is known as "the neighborhood bike guy" in Clearwater, Florida. Select Parent Grandparent Teacher Kid at heart. Age of the child I gave this to:. Hours of Play:.